BEYOND CONFLICT FREE
We're illuminating the hearts of adventurous romantics.
Nested Yellow Jewelry Co. is committed to environmental responsibility, ethical sourcing, and marriage equality. Our jewelry is handcrafted in Portland, OR with 100% reclaimed precious metals, Fairmined gold, ethically sourced gemstones, and low-impact, environmentally conscious practices. 
Our diamonds and colored gemstones are sourced in accordance with fair trade and environmentally responsible principles. Personal relationships with mine owners and gemologists create a harmonious and responsible design. Discover our beautiful Regional and Exotic Gemstones, ie. Canadian Diamonds, Brilliant Moissanite, Montana Saphire, Sleeping Beauty Turquoise and Oregon Sunstones.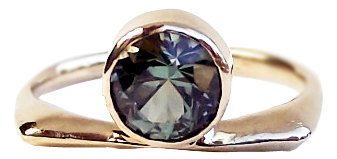 FAIR TRADE GEMS
Closely Tracked from Mine to Market
"A gemstone's journey begins within the earth. Columbia Gem House is often there when rough gems are first brought to light at mines around the world. The company has exclusive agreements with many mines, including the new mine in Malawi that produces Nyala™ ruby and sapphire and the Tashmarine® mine in China. 
Additionally, they've developed the innovative GemAmerica™ program for gemstones mined in the United States, working closely with small miners across America.
Wherever in the world your gemstone originates, it is more important than ever to know how and where it was mined, how, where and by whom it was cut and under what conditions, has it been treated, or mixed with a synthetics and where in the world was your jewelry made?  
With so many questions, they've developed Mine to Market traceability - They know where our gems come from and where they have been." - Columbia Gem House Inc.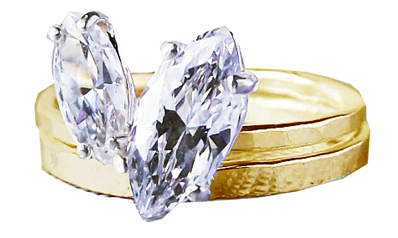 Canadian and Harmony Diamonds
Canada and Conflict Free
Hoover & Strong's Responsible Diamond Sources
Hoover and Strong's database includes over 8,000 certified loose diamonds that are conflict-free and come from sources that are full participants in the Kimberley Process Certification System. This process, created to eliminate the flow of  "conflict or blood diamonds", requires participating countries to tightly control the import and export of rough diamonds and to establish control systems over their private sectors that trade in rough diamonds.
Additionally, their customers have the option of searching our Harmony Diamonds collection which includes recycled diamonds AND Canadian diamonds.
Harmony Recycled Diamonds - The most eco-friendly natural diamonds available
A recycled diamond has been previously set in jewelry, then removed and re-introduced into the supply chain for resale. Many millions of recycled diamonds are part of the world's existing, above ground, the supply of diamonds. Hoover & Strong participates in the acquisition and reintroduction of these diamonds back into the jewelry supply chain.
How Hoover and Strong obtain Harmony Recycled Diamonds  - They provide refining services to their customers which include free stone removal, diamond brokering, melee sorting and diamond grading. These services allow their customers the opportunity to recycle and sell their stones for the highest prices and allow them to feed their inventory of Harmony Recycled Diamonds. They also buy loose diamonds.
Canadian Diamonds - Hoover & Strong offers certified, conflict-free, diamonds from the Canadian Arctic. These diamonds are mined in the Canadian North and responsibly cut and polished. Their production and sale are subject to strict standards, set out by the Canadian Code of Conduct, CanadaMark™, and the Government of the Northwest Territories, designed to protect the Arctic environment, mine workers, and local employees. Known for their sparkle and clarity, Canadian diamonds rank among the most spectacular diamonds currently available.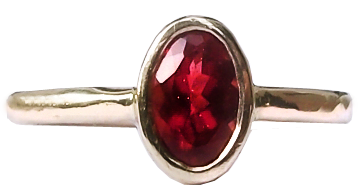 Oregon Sunstones
Ponderosa Mine, Oregon
Oregon Sunstone
The Oregon Sunstone is an exotic gemstone and 100% natural. Formed and crystallized by ancient volcanic force, Oregon Sunstone is unique among gem feldspars due to the millions of copper schiller found in it. Each Oregon Sunstone is as unique as a snowflake. Only in Oregon is it found of gemstone quality and in such a spectacular array of colors: clear, yellow, light pink, salmon, orange, green, intense red and blue-green. Shades of red and green being the most rare. Every stone is 100% natural with no enhancement to color with chemicals, diffusion, heat or oiling. Each rough Oregon Sunstone from the Ponderosa Mine is handpicked by Native Americans.
The Ponderosa Mine is located in the Ochoco National Forest. Mining is limited to 5 months during which summer melts the snow that blankets the mountains the rest of the year.
Green Mining Practices
Owners John and Talley Woodmak and Bruce Moore are ever mindful to respect the earth and care for the planet from which Oregon Sunstone comes by making a commitment to minimize the impact of their operations on the environment using green mining practices and fair trade protocol. 
 Metaphysical Properties of Oregon Sunstone
Native Americans in the northwest once picked the glittering stones from the ground, often using them in "Medicine Wheel" ceremonies to help establish a connection with the healing light of the sun. Of all the stones on earth, the Oregon Sunstone truly reflects the qualities of light: openness, benevolence, warmth, strength, mental clarity and willingness to bestow blessings on others.